Refinishing Wood Floors
Allow Los Angeles Carpet Cleaning .us to refinish or clean your wood floor to restore its dignified prestige. It will continue to beautify your home for many years to come.
The soft sheen of wood floors, their rich textures, their unmistakable grace and elegance-wood floors are a joy to look at and an integral part of your home's charm.
Wood floors are important assets to homeowners too. Not only do wood floors beautify the home, they actually raise its value.
Wood floors so versatile! Neutral in color and style, they are always easy to decorate around and blend perfectly with any decorating idea.
It's obvious-repairing or refinishing wood floors makes a lot of sense.
Over time, your wood floor can fall victim to stains and marks that make it look old and worn-juice stains, coffee, crayon, ink, adhesives, paint, scuff marks, and shoe polish just to name a few.
Los Angeles Carpet Cleaning .us seasoned floor experts use industry-standard technology and quality materials to get the job done. Based on your wood floor's condition, they will suggest the proper color to apply. Once the color has been selected, they will apply a wood sealer as a primer layer.
The next step is buffing, in order to make the surface of your wood floor smooth and shiny. After that, the finishing touch is applied, an additional layer of polyurethane. This guarantees top protection for your floor-the more coats of polyurethane applied the longer protection you get.
Your wood floor will look magnificent!
You can feel confident that during the entire treatment, our floor crew will ensure the complete safety of your furniture and valuables.
Los Angeles Carpet Cleaning .us can do any job. From refinishing wood floors or sanding wood floors, to wood floor repair and wood floor cleaning-you floor will retain its classy look and finish for many years to come.
Los Angeles Carpet Cleaning .us provides all the repair solutions you require. Sometimes wood floors can suffer damaged for any of several reasons-normal wear and tear, flooding, too much heat or poor maintenance.
We'll have your natural wood floor instantly looking years younger. Your satisfaction is guaranteed!
When the finish on your wood floor becomes dull, scratched or worn, we sand it down to the bare wood and refinish it. This restores your wood floor to its original luster.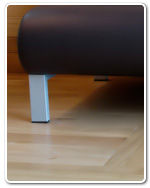 We provide all wood floor treatments:
Sanding
Sealing
Applying filler if needed
Finishing
Waxing and polishing
Staining refinishing wood floors
Bleaching
Customized installation
Buffing
Top-quality polyurethane protection
Make sure to put protector pads on all furniture legs on your wood floor.
Place walk off mats and area rugs in high traffic areas (making sure they stay dry and are cleaned underneath often).
Perform routine maintenance as recommended by manufacturer. This includes sweeping, vacuuming and/or dust mopping to remove dirt and grit. Make this a regular task and stick to it.
Keep high-heeled shoes in good repair. Keep your pet's nails trimmed on a regular basis.
Do not use wet mops!
Do not use dust cleaners.
Do not use ammonia.
Do not track dirt-clean it immediately.
Do not use other floor cleaning products.
Never wax a urethane finish!
Los Angeles Carpet Cleaning .us uses durable, non-toxic finishes guaranteed to beautify and protect your wood floor. Contact us for a free estimate.